During Etruscan times, this territory in Umbria was under the sway of the important Etruscan town of Chiusi. The Cittą della Pieve of today originated in the early Middle Ages around a parish church (a "Pieve"), dedicated to Saints Gervasio and Protasio, and named Castrum Plebis. The establishment of the town was completed in 1326 with the building of a fortress by the Perugians, who, after the death of Emperor Frederick II in 1250, controlled Cittą della Pieve until 1529, when Pope Clement VII de' Medici brought the town under the central dominion of the Church. The most important buildings were erected between the 13 C and 16 C, and bricks were used in their construction, since Cittą della Pieve had been a major centre of brick production for Tuscany and Umbria since the Middle Ages.

Other towns in the area worth a visit are Monteggabione, Montegiove, Monteleone d'Orvieto and Ficulle.

Pietro Vannucci, known as "Perugino", was born in Cittą della Pieve and some of his works may be seen here, including the "Adoration of the Magi" (1504), the "Descent from the Cross" (1517), the "Madonna in Glory" (1514), and the "Baptism of Christ" (1510). Cittą della Pieve also hosts several fine works by Domenico Alfani, Antonio Circignani, known as "Pomarancio" and Savini.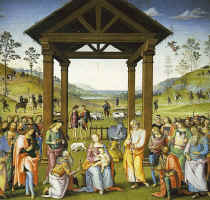 Il Perugino "The Adoration of the Magi" (1504)
Oratory of Santa Maria dei Bianchi
The story is depicted as a big knightly procession lost in the vastness of one of the largest landscapes created by Perugino. Here is a recognisable, though idealised, the view from Cittą della Pieve toward Lake Trasimeno and the Valdichiana.