Civitella in Val di Chiana (Civitella Valdichiana, also known locally as Civitella della Chiana) is a pleasant and interesting walled village in Tuscany, located on a high ridge between the valley of the Chiani river and the Val d'Ambra, and providing spectacular views of both. The name "Civitella" could be the diminutive of the latin "civitas", a town or city - in other words, "a small town" - or it could be derived from the Tuscan "civitella", a variety of wheat. The former derivation is more likely considering the large number of towns named "Civitella" throughout Italy. Numerous archaeological finds indicate that the first settlements in the area of Civitella in Val di Chiana go back to the Etruscan and Roman periods. During the Early Middle Ages, the Longobards built their fortifications on the remains of Roman buildings, and the Fortress visible today is a Longobard structure. The earliest extant religious buildings date from between the 9 C and the 11 C, and the houses of the population are clustered around these structures.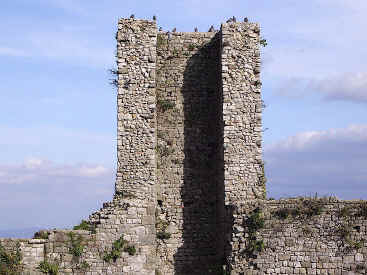 In about the year 1000, the fortress of Civitella in Val di Chiana fell under the direct control of the Bishopric of Arezzo and, partly because of its strategic position, the Civitella became the administrative centre for the territories of the Ambra valley, and was known at that time as Civitella del Vescovo (Civitella of the Bishop).

During the 13 C, Civitella in Val di Chiana suffered from the conflicts between the Guelphs and the Ghibellines taking place on its territory and resulting in the destruction of the Fortress. In 1272, the Fortress was rebuilt by Bishop Guglielmino degli Ubertini, but in 1289 it was conquered by the Florentine army which had previously defeated the city of Arezzo in the famous Battle of Campaldino. During the next century, Civitella was for long once more under the control of the Bishopric of Arezzo but in 1384 it was definitively annexed to Florentine territory, becoming the seat of the Florentine Podestą. In the middle of the 14 C, Civitella was besieged by the Siennese under Pietro Strozzi but was rescued by Medici forces. At the beginning of the 18 C century, Civitella passed by inheritance to the Dukes of Lorraine, who in 1774 elevated the village to the rank of autonomous municipality. The Dukes of Lorraine retained control of Civitella almost uninterruptedly until the unification of Italy in 1861 under King Vittorio Emanuele II of Savoy.

Important sights in Civitella in Val di Chiana include the Chiesa di Santa Maria, the Rocca (Fortress) and the Palazzo Pretorio (Praetorian Palace). The Rocca, which was German headquarters during WW II, was extensively bombed and has not been restored. The Aretine gate suffered a similar fate, but the Siennese gate remains intact.

Numerous annual celebrations take place in Civitella in Val di Chiana, the most enjoyable being the "Feast of Grapes, Olive Oil and Wine" held during the second week of September.